Makes 4 servings
True Italian bruschetta is grilled over a wood fire. As this may be impractical for many, a stove top grill works fine, and even a ridged cast iron skillet or toaster oven will work as well.
Ingredients:
½ loaf Italian sourdough bread, (you can substitute any crusty bread)
4 large garlic cloves peeled and pressed through a garlic press
½ cup extra virgin olive oil
Coarse sea salt
Black pepper fresh ground
M
ethod:
Cut the bread diagonally into ¾ inch slices.
Grill the bread until it is brown on both sides.
Remove the bread from the grill and spread pressed garlic on each of the bread slices. Visit original post and read more, http://oilandvinegar.cruets.com/155/traditional-italian-bruschetta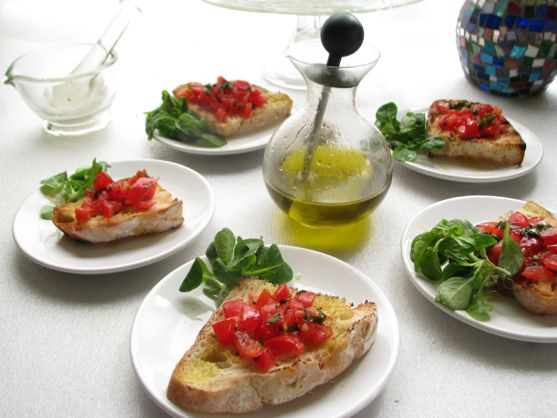 Visit cruets.com to get your oil and vinegar and the cruet to put it in.